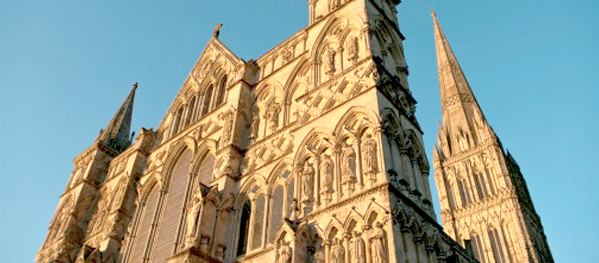 Why Salisbury Cathedral is special to us.
There are lots of books and glossy brochures that will rightly tell you how wonderful Salisbury Cathedral is with its history, the towering spire, its Gothic architecture, the Magna Carta and much much more, but what we would like to do here is let you know why it is so special to us.
Most buildings will have an aspect that looks better than others, a good side so to speak. It does not matter however from which direction you drive into Salisbury, what the weather is doing, what time of day or night; what  the light values are like, no matter, it always looks stunning. There was an occasion a few years ago when I was returning home from a fishing trip and simply had to pull over and watch the show Mother Nature was putting on, I was near Constable's bridge with the Cathedral looming over me and a fierce electric storm as a back drop, the image of it will stay with me forever, it gives me goose bumps just to think about it.
When approaching from the city centre it does not matter which gate you use to enter Salisbury Cathedral Close, they all offer great views, do however take some time to soak up the Close itself as it is worth a visit in its own right with the Bishops Palace, museums, tearooms and some of the most desirable residences anywhere in these Islands. It is just a lovely place to spend time, an oasis of calm so soaked in the history of this land that it seems almost unfair that one place should have so much of it. Then you turn around and crane your neck up and gaze in awe at the leviathan form that towers over you in all its majesty; it does not matter if you are a first time visitor or a lifelong resident, you simply cannot fail to be moved, its magic works on all, irrespective of age, nationality or creed. As you walk across the beautiful lawns, what started out as plain old huge seems to just grow out of the ground, getting more magnificent the closer you get.
Do take time to watch the stone masons at work, it is as close to time travel as you are likely to get as the tools and materials in use have not really changed for hundreds of years and I would like to bet passersby 750 years ago would have been gazing on in wonder in much the same way. Your very own screening of Ken Follett's 'Pillars of the Earth' being played out before you.
Enter the Cathedral and brace yourself for a tidal wave of history and spender that make this place one of the most affecting buildings anywhere on Earth.