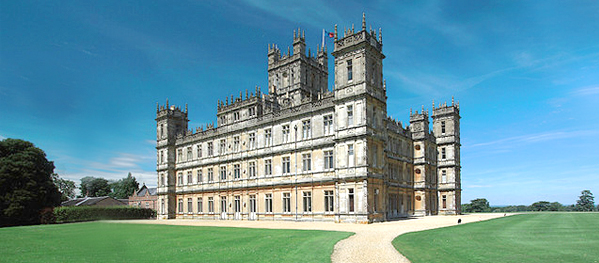 Simply stunning location with rural England spilling out in every direction.
Grayling House B&B is in an area particularly blessed when it come to stately homes and jaw dropping gardens, so it is a tad embarrassing to tell you that it took a certain TV programme to get us to give Highclere Castle the once over. It was one of the Christmas special opening days that took us there last year (2012) and I must say it did not disappoint. We took some friends who like us are huge Downton Abbey fans and to be honest we knew little more about the place than the fact that it was used in the drama series.
The estate itself is in a simply stunning location with rural England spilling out in every direction. The gardens bare all the hallmarks of the landscaping genius of Capability Brown and are an absolute joy to take in, there are some wonderful walks all with a different feel, all with the magnificent Castle as the backdrop.
Highclere Castle itself will be so familiar to any 'Downton' fan; wherever we looked there were people sniggering with childish glee, there's Lady Mary's room, that's Lady Edith's room etc. etc. Well we were anyway. Great fun and one of the most lovely stately homes we've seen.
If I had paid more attention at school I would have known that it was the Earl of Carnarvon that discovered Tutankhamen's tomb and it was the exhibition hall on the lower floor of the house that to be honest turned out to be the icing on the cake, hundreds of genuine artefacts from the legendary tomb itself.
All in all a great day out that will tick boxes for all visitors.